What is it?
Merge Scenarios provides you with flexibility when performing analysis by allowing you to copy data from one or more existing Scenarios into a new or existing Scenario Actualizing your Forecast by merging your Actuals data into your Forecast is one of the most common uses for this feature.
Other uses include planning and finalizing budgets and forecasting. Once your planning is complete, you can easily update the data in your finalized planning and budget Scenarios with just a few clicks.
How do I do it?
1. From the side navigation - under Inputs, select Dimensions to open the Dimensions page.

2. Click the Merge Scenarios button above the Dimensions table.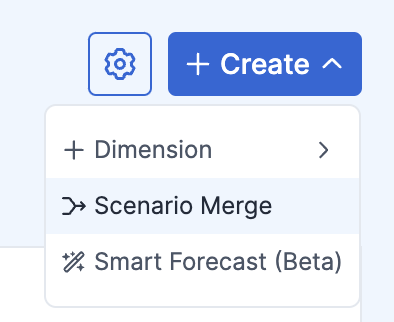 3. From the Destination Scenario dropdown select an existing Scenario to merge data into or create a new Scenario by clicking Create New Scenario. A Destination Scenario cannot be write protected, write blocked, a Formula, or a parent Dimension.
4. From the source Scenario you will select the Scenario you want to copy data from. You can pick any Scenario that is not a Formula or a parent Dimension.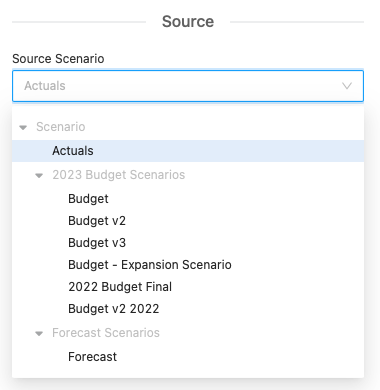 5. Select a time period for the Source Scenario. Either pick a time Dimension or pick "custom range" to pick a specific start and end date. Click Add another date range to add any additional data ranges you need.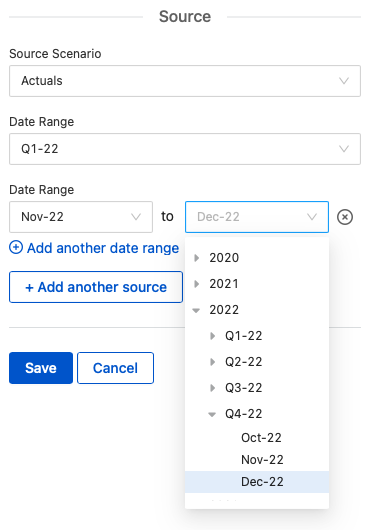 6. Select any additional Source Scenarios and Time frames you need. You can add as many as you need.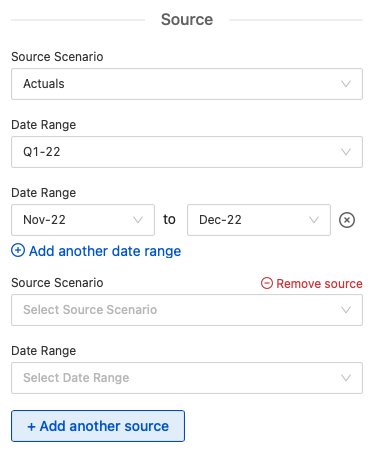 7. Click the Save button to process the merge.

8. If there is already data in the Destination Source you will be prompted with a warning message. Click the Overwrite data button to start the Merge or click the Cancel button to return to the configuration screen.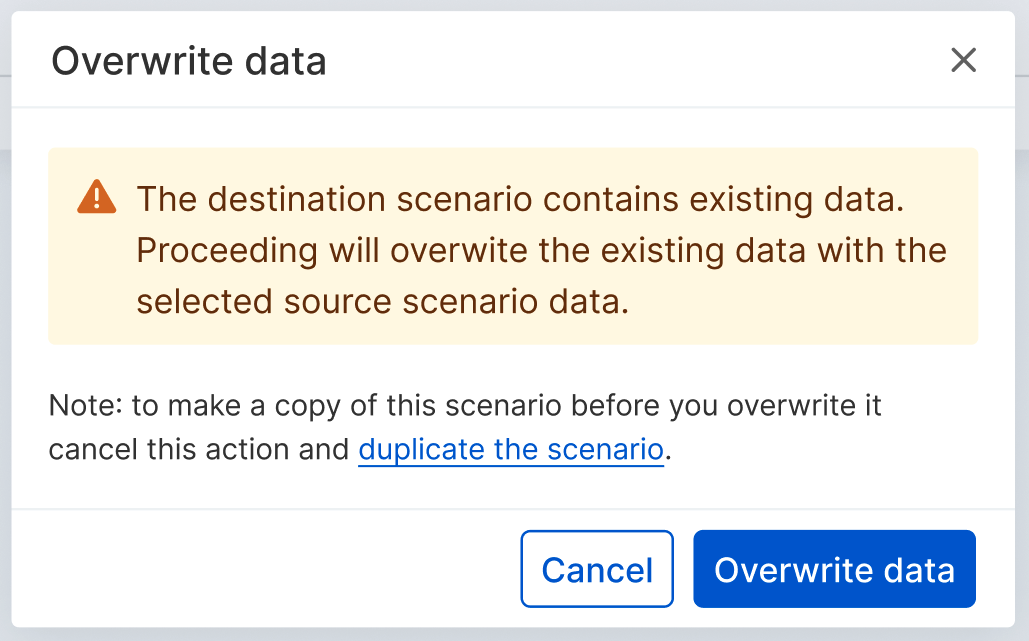 9. You will receive an email notification once the Merge Scenario process is complete.
Handling Date Ranges
When performing a Merge Scenario you are able to select multiple date ranges for pulling data from a single source Scenario. Understanding how to select the date range is important to ensure you are copying the data you are expecting.
There are two ways to select dates:
Selecting a single Time Dimension. This is useful when you want a single date range or non-consecutive date ranges.

When you select the Date Range drop down menu the Time Dimension tree is displayed. You can select a full year, quarter, or a single month. To select another, non-consecutive Time Dimension you can select "add another Date Range" once your first Date Range is selected.

Selecting a custom Date Range

When you select the Date Range drop down menu the Time Dimension tree is displayed, at the top of the menu is a selection called "Custom Range" when selected the form will change to a start and end time period. Here you can select the consecutive range that data will be copied from.