Tags in Cube allow for alternate rollup hierarchies, enhancing flexibility in grouping dimensions without modifying your standard chart of accounts. Explore their potential by creating tags in your Web portal.
How tags work
Tags function similarly to formulas. They sum all values across dimensions that contain your tag so you can group various dimensions or create alternative rollups.
For example, you could tag a few departments as "Bruce's Team" to create a group to review spending across the departments easily: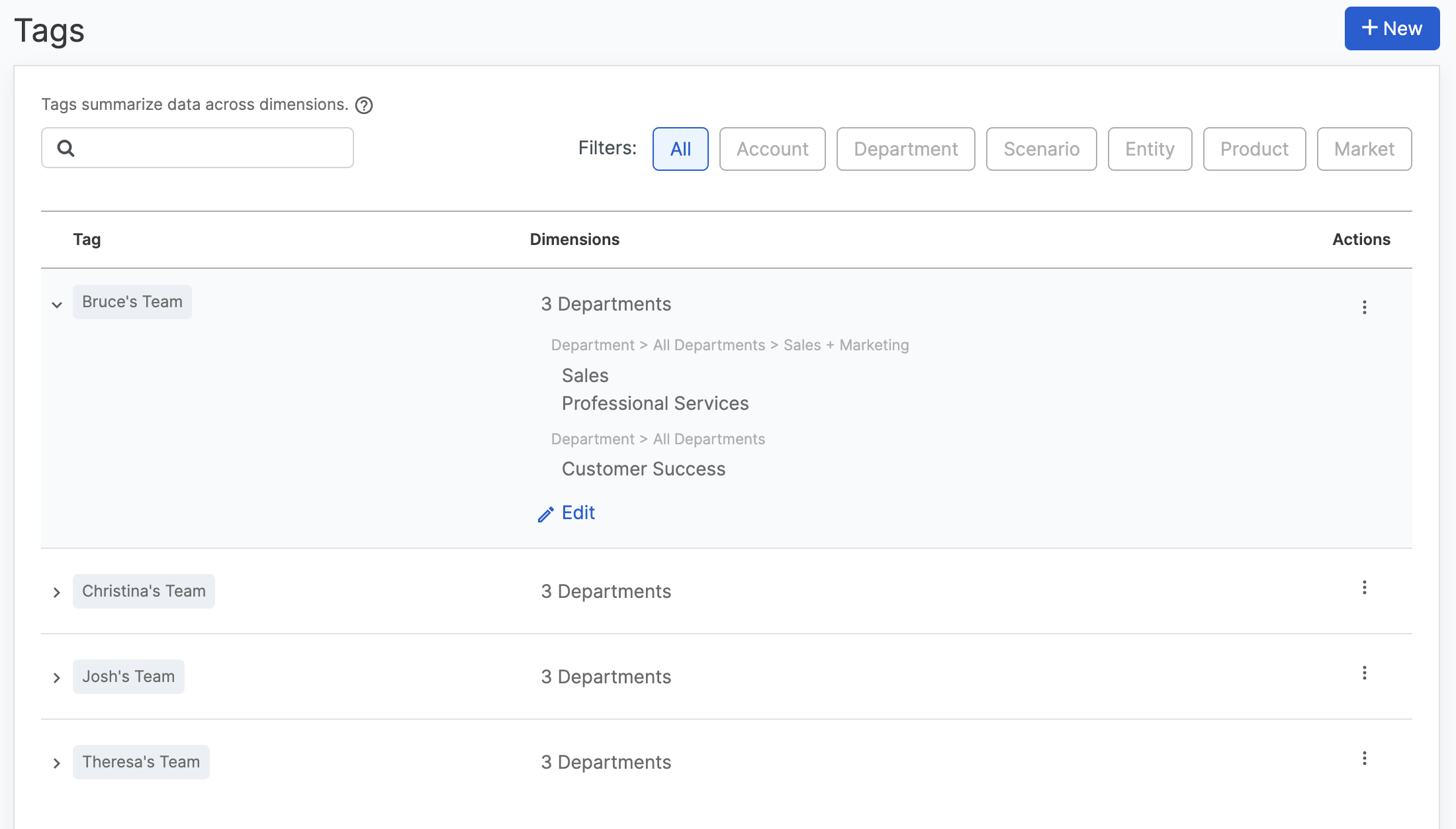 When established, tags become accessible to the Spreadsheet add-on under the corresponding dimension.
Introduce a new column or row with the tag name to integrate your tag into an existing spreadsheet. Or, if you're building a new range using the Spreadsheet add-on, you can select it from the dropdown within your tagged dimension.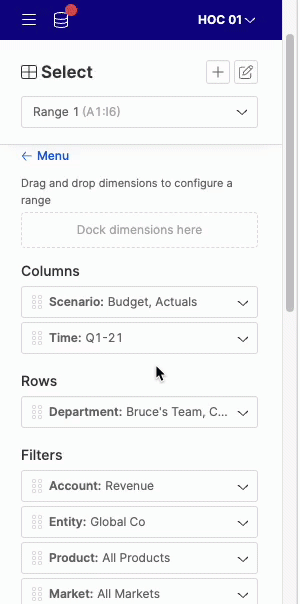 How to create tags
Tags are created in the Web portal. Navigate to Tags, then select the + New button. A sidebar will appear for you to create your tag by specifying:
A tag name
The top-level dimension that this tag will be used in
Tagged dimensions: Use the dropdown or search keywords, then check the box for each dimension you'd like to be included in your tag.

Learn more about creating tags.
Fetch data to tags
After finalizing your tag, you can fetch data into your spreadsheet via tags in several ways:
With an existing spreadsheet, add new columns/rows, add your tag names, re-select your range, and fetch the data.
For new spreadsheets:
Select a range: Manually create your spreadsheet by adding all the relevant dimensions, including your tags, then use and highlight your range to register and fetch the data.
Build a new range: Use to drag and drop your dimensions and select your tag(s).
See how to fetch data to tags for a deeper look. Or, if you're new to using the Spreadsheet add-on, check out our Guide to build options for ranges.
Ideas for using tags
Here are some ideas of how you can leverage tags for reporting:
Include in Financial Statement reporting packages to present statements that don't follow the dimensional hierarchy.
Management Discussion & Analysis (MD&A) reporting packages
Reporting on non-GAAP items
Departmental tags that fall under one budget owner
Group various subsidiaries
Group customers by location
Have ideas on how to make Tags work even better for you? Tell our Product Team!