Once your Cube is set up and Dimensions established, you're ready to Cubify your existing package. This allows you to use the Spreadsheet add-on to work with your Cube data.
In this article, you'll learn how to Cubify your existing spreadsheets. To illustrate this, see the video below on Cubifying a Budget vs. Actuals report.
If you like our template, download it here.
Remember - your dimensional hierarchy and nomenclature are unique to your organization. Always refer to your dimensional hierarchy naming conventions when Cubifying your spreadsheets.
How to Cubify your spreadsheets
1. Create a Drivers tab with your Cube dimensions and timetables. This will help you and your non-spreadsheet-friendly viewers easily filter the data by month or dimension.
From your Cube Web Portal, click the

to Export Dimensions from each of your relevant Top-Level Dimensions and feed the drivers of your reports.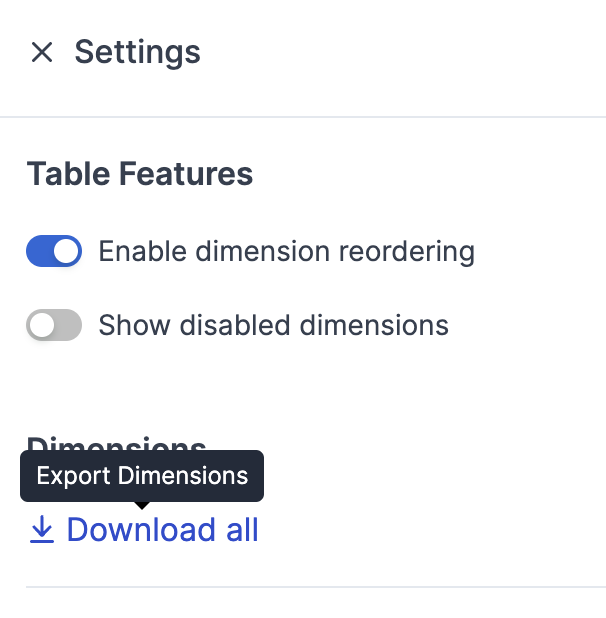 2. Update the rows and columns in your spreadsheet to reflect the naming of your Cube Dimensions, attributes, formulas, and/or tags.
Cube Dimensions: To accurately fetch the data, rows and column names must match the naming conventions used for mapping your source data to Cube.

Use the downloaded exports from Step 1 or have your Cube Web Portal as a guide.


Attributes: Attributes in a spreadsheet are extra details stored at the row-level dimensions. They provide additional information or a more specific level of detail to a range you've created.

Unlike top-level dimensions, attributes are not used for analyzing or manipulating data. Instead, they provide helpful information associated with each entry when viewing data at a detailed level using Drilldown.

For example, if you want to include details like Employee ID, Annual Salary, and Location for a particular expense item (e.g., Salary Expense).


Formulas: Determine which formulas to leave in your sheet and which to update to Cube Formulas.

As a rule, Cube recommends using Cube Formulas for repeated calculations in your reporting and planning cycles, for example, calculating Gross Profit, Gross Margin, or Net Revenue.

One-off or irregularly used formulas are best left in your spreadsheet.


Tags: Depending on how you set up your Cube, you may have created Tags to track alternative hierarchies, projects, teams, etc.

Tags serve as great filters or may be used for reporting independently. Update your spreadsheet accordingly based on how Tags are used in your Cube.
3. Set up spreadsheet tie-outs to ensure the balances are correct. See the example below:

4. Open the Add-On, and under Build, select the range of your spreadsheet.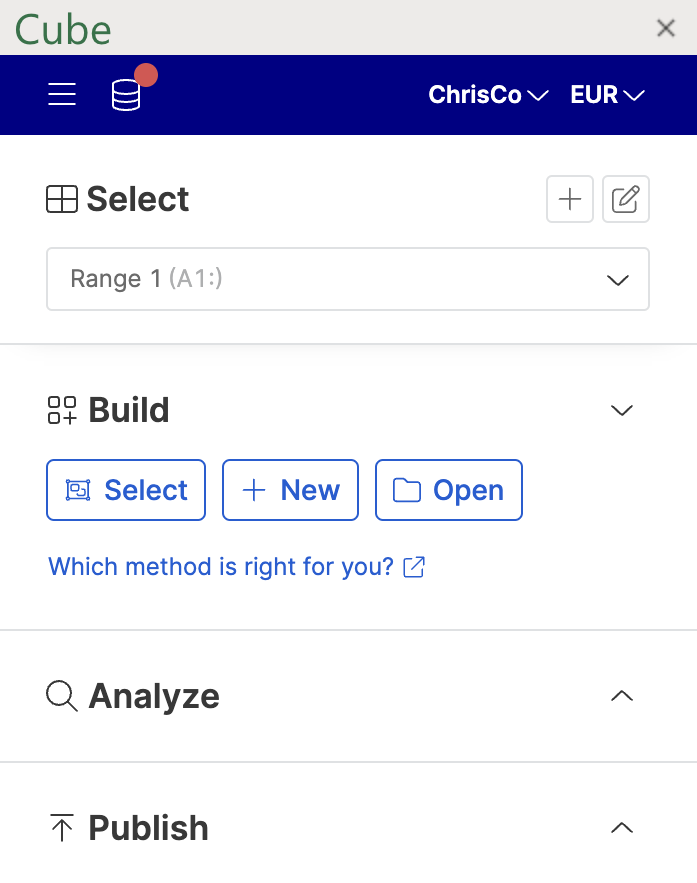 5. Verify that you updated your rows and column headers using Validate to check for invalid Cube Dimensions. If any are spotted, update accordingly.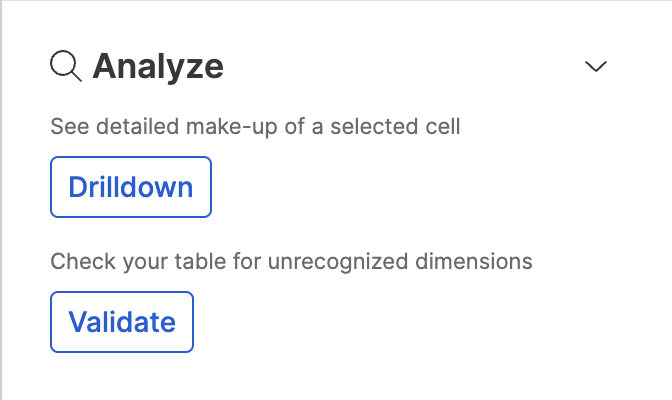 6. Click Fetch Data once the range registers. If Cube does not recognize a column or row, you'll be notified to update the range accordingly.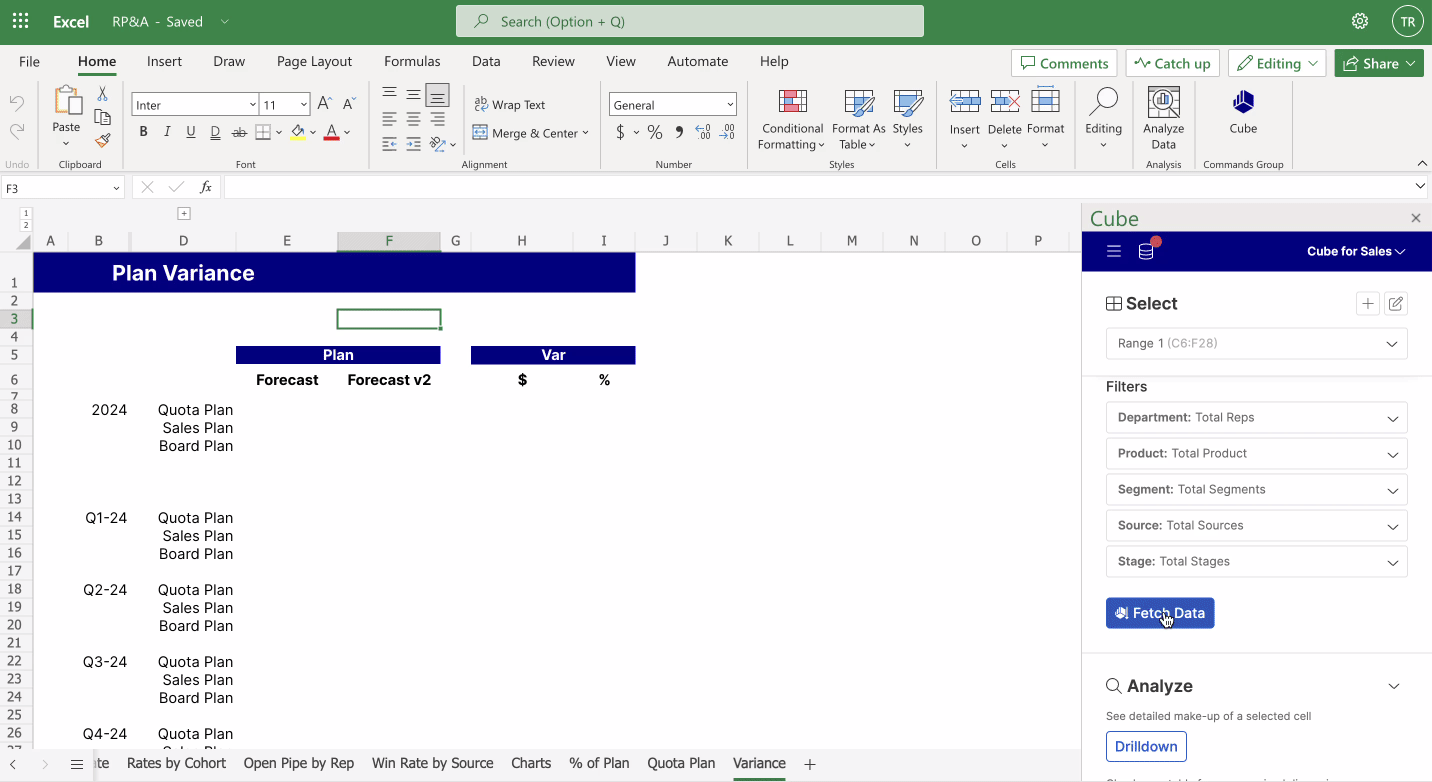 7. Drilldown on any balance to support detailed variance analysis by your dimensions.
This will open a new tab in your spreadsheet with detailed transaction data and any added attributes.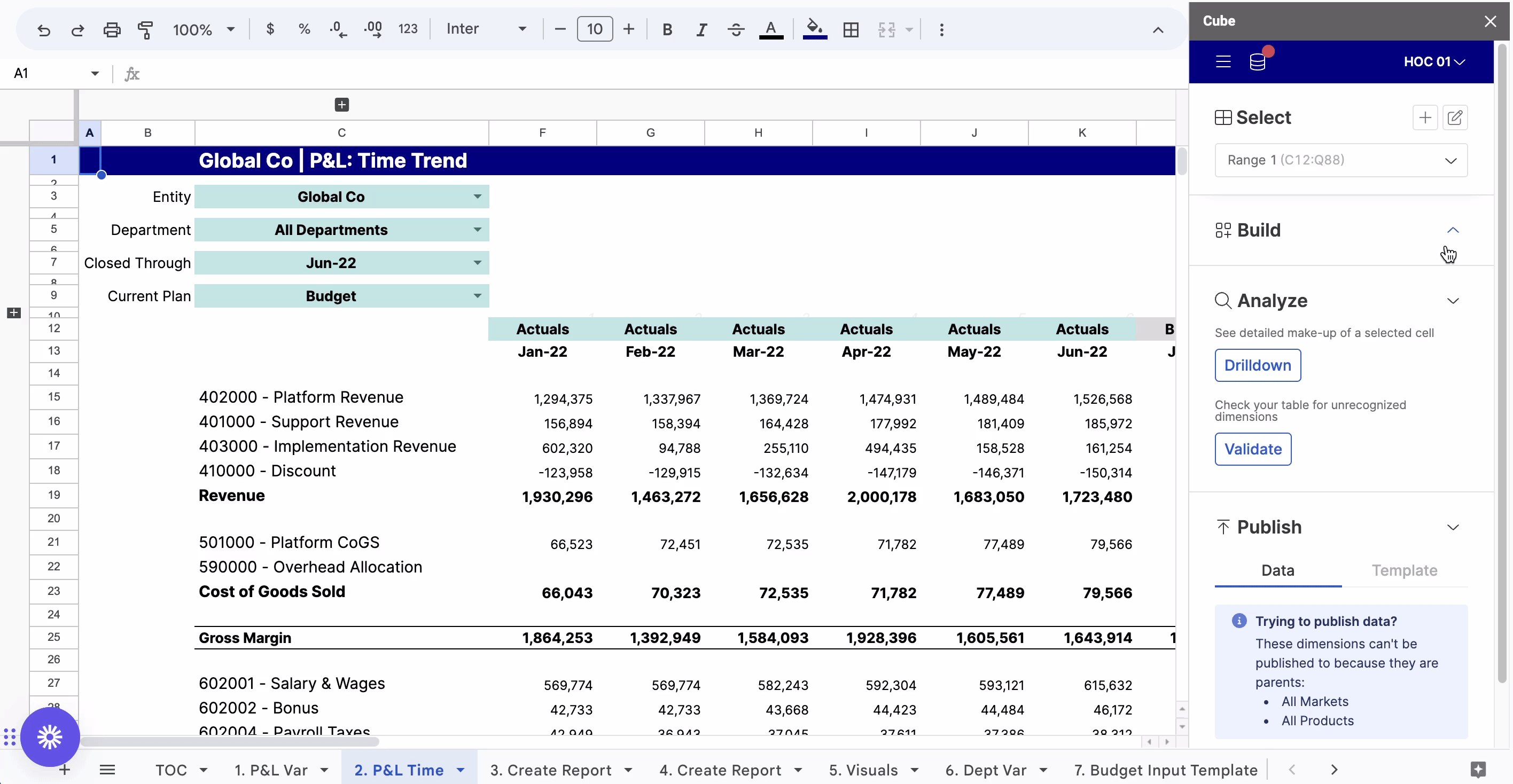 And there you have it, you've Cubified your reports! Next, learn how to maintain your data in Cube.