Determine how to construct, fetch, and publish data into your spreadsheet with one of the following options in your Add-On:
Select a pre-formatted range that you're looking to register to fetch data
New range from scratch built using Cube Dimensions direct in the Add-On
Open pre-existing reports or templates
Select
Best for pre-formatted ranges.
1. Select the columns and rows with your listed dimensions (dimensions, tags, and formula names but named correctly to fetch data accurately).
2. Then click

3. If successful, you'll receive a confirmation message conveying your range was set: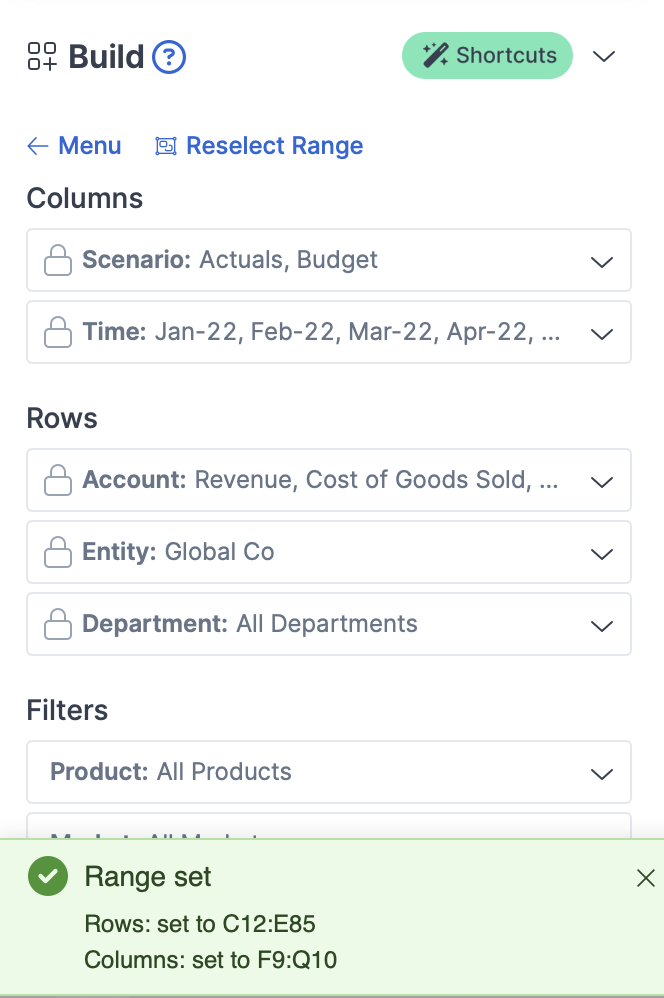 If the attempt was unsuccessful, it's because it's missing dimensions or the names are listed incorrectly. See troubleshooting steps or view step-by-step instructions.
4. Click

to retrieve data to your range. You'll receive a confirmation message in the Add-On that your fetch was successful.
Walk through steps below:
New
1. Build a range from scratch quickly by dragging your dimensions from the dock and dropping them into Columns, Rows, or Filters.

2. To write the range and fetch data to your sheet, click

Walk through steps below:
See step-by-step instructions for more detail.
Open
Use existing templates and reports to push and pull information from Cube into your spreadsheet.

Learn how to create templates.