The purpose of the audit trail is to show you how your data changes over time. Whenever data is changed in Cube, a corresponding Audit Trail page is created.

The Audit Trail page will provide the following information:
When the change occurred
Who prompted the change
What data was modified
To see additional details, select View Changes:

Show splits and attributes
This toggle allows you to either show or hide the splits and attributes associated with a value.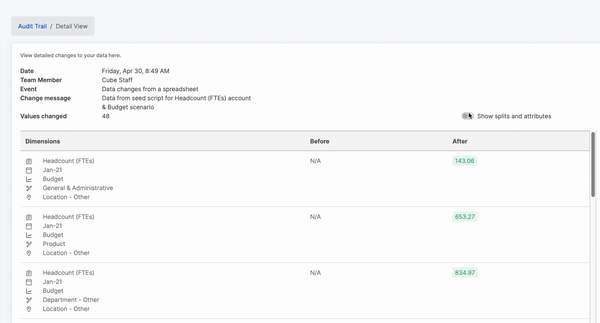 Columns
Dimensions

This column shows you the Cube dimensions associated with each value that changed

Before

This column shows you the value before the data change

Event

This column shows you the value after the data change
Header Fields
The following fields are associated with all data changes:
Date

When the data change occurred

Team Member

Which team member initiated the event that changed the data

Event
Change message
Values changed


How many values changed as a result of this event
The following fields are associated with Trial Balance Imports:
Start Date

The lower parameter of the date range of the import

End Date

The upper parameter of the date range of the import
The following fields are associated with spreadsheet data submissions:
Software

Data submitted via Google Sheets or Excel

Document

The name of the file used to submit the data
If the data was submitted via Google Sheets, there will be a hyperlink to that sheet.

Sheet

The name of the specific sheet used to submit the data