Saved Templates and Reports allow you to save time, eliminate re-work, and standardize how data is entered, viewed, collected, and shared, plus enable real-time collaboration among teammates.
Learn more about:
Saved Collection Templates
Build custom-designed layouts (or modify ours) for various planning activities and models (i.e. building a Department OPEX Budget or a Sales Forecast), and then save them for repeated use in future planning cycles.
There also shareable. Create them once using the Add-On, share them with anyone, and then collaborate in real time to build your plans, budgets, and forecasts. 
Examples of Common Collection Templates
Revenue Templates

Expense Templates

Balance Sheet Templates

Cash Flow Templates

Marketing Pipeline

Marketing Funnel Metrics

SaaS Bookings Waterfall

Sales Forecast

Revenue Planning

Quota Planning

Multi-Product revenue mix

Department OPEX Budget

Workforce Planning

T&E Planning

Marketing Program Spend Planning

Project Expense Planning

Expense Allocation

Working Capital Planning

Capex Planning

Debt Covenant Planning

M&A Modeling

Sales to AR to Cash Modeling

Inventory Roll Forward

Cash Flow Planning

Free Cash Flow Forecasting

Operating Cash Flow Forecasting

Saved Reports
Create a standardized and reusable read-only view of financial data by publishing your custom reports to be used repeatedly in future reporting cycles.
Establish a library of commonly used reports that team members can reuse or repurpose for their planning needs. Like Templates, reports are also shareable: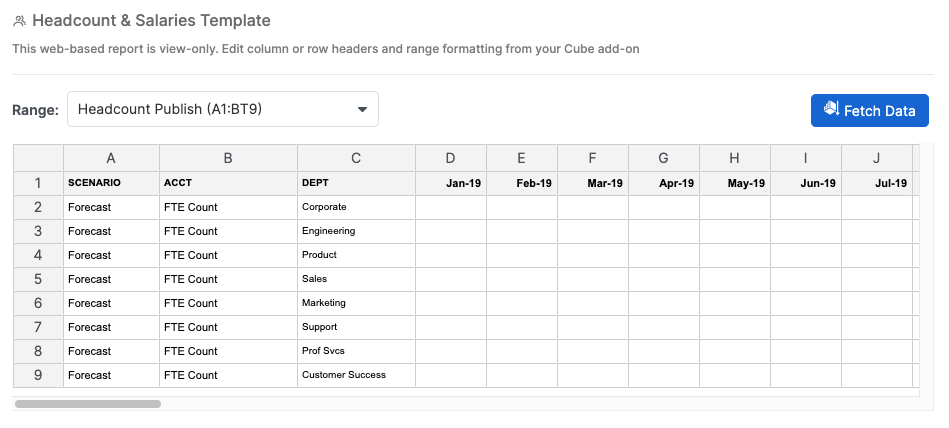 Examples of Common Reports
GAAP

Management (Non-GAAP)

Operational Data & KPIs

Income Statement

Balance Sheet

Statement of Cash Flows - Direct Method

Statement of Cash Flows - Indirect Method

Department Summary OPEX Report

Unit Economics

Product P&L Report

Customer Profitability Report

Project Performance Report

Summary P&L Report

Marketing Funnel Metrics

Customer KPIs

Win Rates

Summary Financial KPIs

Customer Portfolio analysis

Market penetration/share of wallet
Related Articles: