I. Adding & Managing Users
Adding and managing users allows you to both grant permission to others, as well as limit their level of access to information. Below we will discuss how to navigate to and utilize this feature.
Navigate to the "team" sub-page from the web portal here.

Click the "+" icon at the top right of the "Current Team Members" table to add a new user - this will open a new page.

Enter the user's email address and select their role (see below for detailed comparisons of each role):




- Admin




- Finance




- Business

Select which dimensions this user can read and write values to, using the Chart of Accounts on this page.

Finish by selecting "Send invite".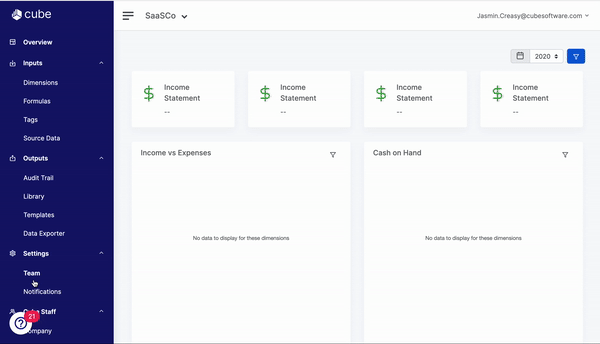 II. User Permissions in Cube
Owners:
Admin -

Admins are considered Cube "owners", admin users have access to all capabilities in Cube and can add new users of any permission group as well as manage all other users' permissions.
Contributors:
Finance -

Finance users have access to all capabilities in Cube other than adding new admins or changing existing admin privileges.

Business - Business users are considered "viewers", they can only fetch & publish data (i.e. read & write data) in the Add-On in Excel or Google Sheets, they have no other permissions. Business users cannot import data or change any account mappings.
Please note, Cube can also limit security permissions by individual users. For example, if you would like to restrict a specific Finance or Business user from a certain group of accounts or departments, you can do so on the Team page. Further, if you'd like to restrict a user from being able to publish, you can do so by unchecking the "Allow this team member to modify financial data in Cube" box when adding the user.
Note: Users who are restricted from a particular dimension will not see that dimension populate for them in the add-on

Interested in how many seats your Cube has? Refer to your Cube contract or reach out to your dedicated Customer Success Manager.
For more user permissions detail, see the permissions by role listed in the table below:
| | | | |
| --- | --- | --- | --- |
| Functionality | Admin | Finance | Business |
| Connect GL, Import Trial Balance, & Upload Data Tables | x | x | |
| View GL & Cube Dimensions | x | x | |
| Add & Map Dimensions | x | x | |
| Fetch & Publish Data * | x | x | x |
| View Audit Trail | x | x | |
| Add New or Existing Contributors | x | x | |
| Add New or Existing Admins | x | | |
Note: If an Admin user needs their access downgraded to Finance or Business for any reason, please open a ticket with support and we will handle getting that access updated for you. Currently, there is no way for a user to do this themselves in Cube.