What are the Cube Add-Ons?
Add-Ons are what allow Cube to make your life infinitely easier! There are two options: Microsoft Excel* and Google Sheets. Depending on your preference, each works to allow information to be pulled from your data sources and displayed within a spreadsheet for ease of use.
*Supported Versions of Microsoft Excel:
Excel 2016 Consumer license

Excel 2019 Consumer license

Excel 2021

Excel 365
Downloading the Cube Add-Ons
To download these, either click the links above or navigate to the Cube Web Portal and find the left-hand side navigation bar where you'll see the "Add-Ons" menu option. This will download Cube's Add-Ons for your spreadsheet programs.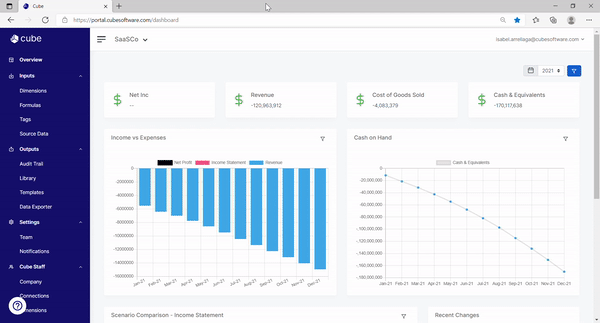 If the above method does not work for you, here is another way to get your Addons on for Excel and Google Sheets.
Google Sheets
Remove/Uninstall Cube from your Add-ins.

From the top toolbar, select "Add-Ons" then click "Manage Add-Ons."

From here, you'll see a box pop up that shows all add-ons currently installed in Sheets.

Select the menu option at the top right-hand corner of the Cube Planning option, click "Uninstall."

Re-install Cube.

Enter "Cube Planning" into the search bar, select the correct option.

Click "Install".
Microsoft Excel
Remove/Uninstall Cube from your Add-ins.

Click Insert > Add Ins > My Add Ins.

Hover over the Cube Add On and click the three-dot menu that appears in the upper right.

Choose "Remove".

Re-install Cube.

Click the "Office Store" button that appears and search "Cube Planning."

Click "Add" next to the Cube Add On and "Continue" in the dialog that appears to approve the installation. You're all set!*
Note: Internet Explorer 11 (IE 11) is no longer supported by Microsoft. It may still work with Cube, but since it is considered "end of life" by Microsoft, we will not be supporting issues that arise due to incompatibility with IE 11 and Cube. Microsoft Edge, however, is fully supported.