Overview
You can use Cube's dimensions to build your own range. In order to try this feature out, type the names of dimension members in any organization of rows or columns desired, but each top-level dimension can only be entered in one row or column.
Ready to build your first range in Cube?
1. Open the Cube Add-On in your spreadsheet and select Build New.
2. Drag and drop your top-level dimensions into the desired Row, Column, and Filter sections.
In the video example below, the top-level dimensions are:

Time: 2020 has been set as a Column header
Scenario: Budget v Actuals has been set as a Column header
Account: Income Statement is set to populate in Rows
Departments: All Departments has been moved to the Filters section
Hint: Click Add Remaining Dimensions to automatically move any unselected top-level dimensions to the Filters section. You can adjust your Filter selections using the dropdown component.
4. Click Fetch Data to build your range.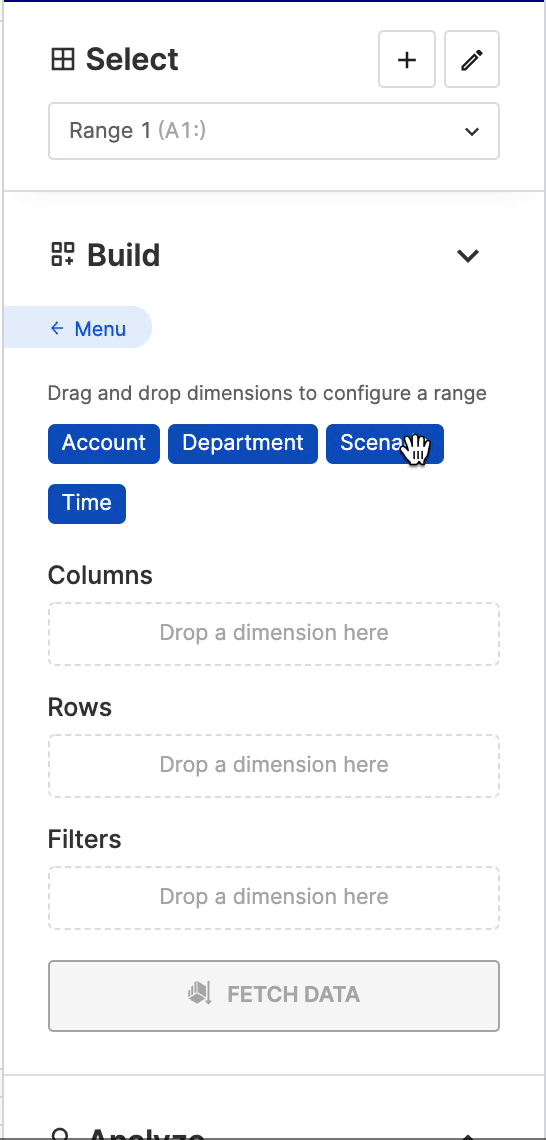 For more information about creating a range and which method might be right for you, click here.