Where does FP&A run into problems with Employee Data?
Collecting, formatting, and mapping employee data into plans and reports is time-consuming, manual, and error-prone.

Calculating employee expenses manually is time-consuming and difficult, and can easily result in errors.

Lack of access and visibility into employee data limits your ability to analyze one of the biggest cost drivers in your business, and build a workforce that supports future goals and strategies.
How does Cube Make Employee Roster Uploads Easy?
Quickly and easily maps and loads your employee roster from your HRIS system into Cube, so you can get the data you need in your plans and reports.

Automatically calculates employee compensation expenses across time based on start and end dates, so you can immediately see the monthly expense breakdown without having to build any of the formulas yourself.

Instantly organizes and consolidates employee details by accounts and department, so all of the data is in the right format and location for insightful planning, reporting, & analysis.
Setup
1. On the Source Data page, click the Data Tables tab.
2. Click Upload Data Table.

3. Input a name for the data table.
4. Set the Type to "Employee Roster."
5. [Optional] If you want to make modifications to your Employee roster data after importing, select the "Data imported from this table can be modified via other methods, e.g. Publishing from a spreadsheet" checkbox. Note: If this option is not selected, the data imported in this table for a specific cross-section can only be updated/modified via another import in this specific table.
6. [Optional] If you want to include Bonus and Commission amounts in your uploads, select the respective checkboxes.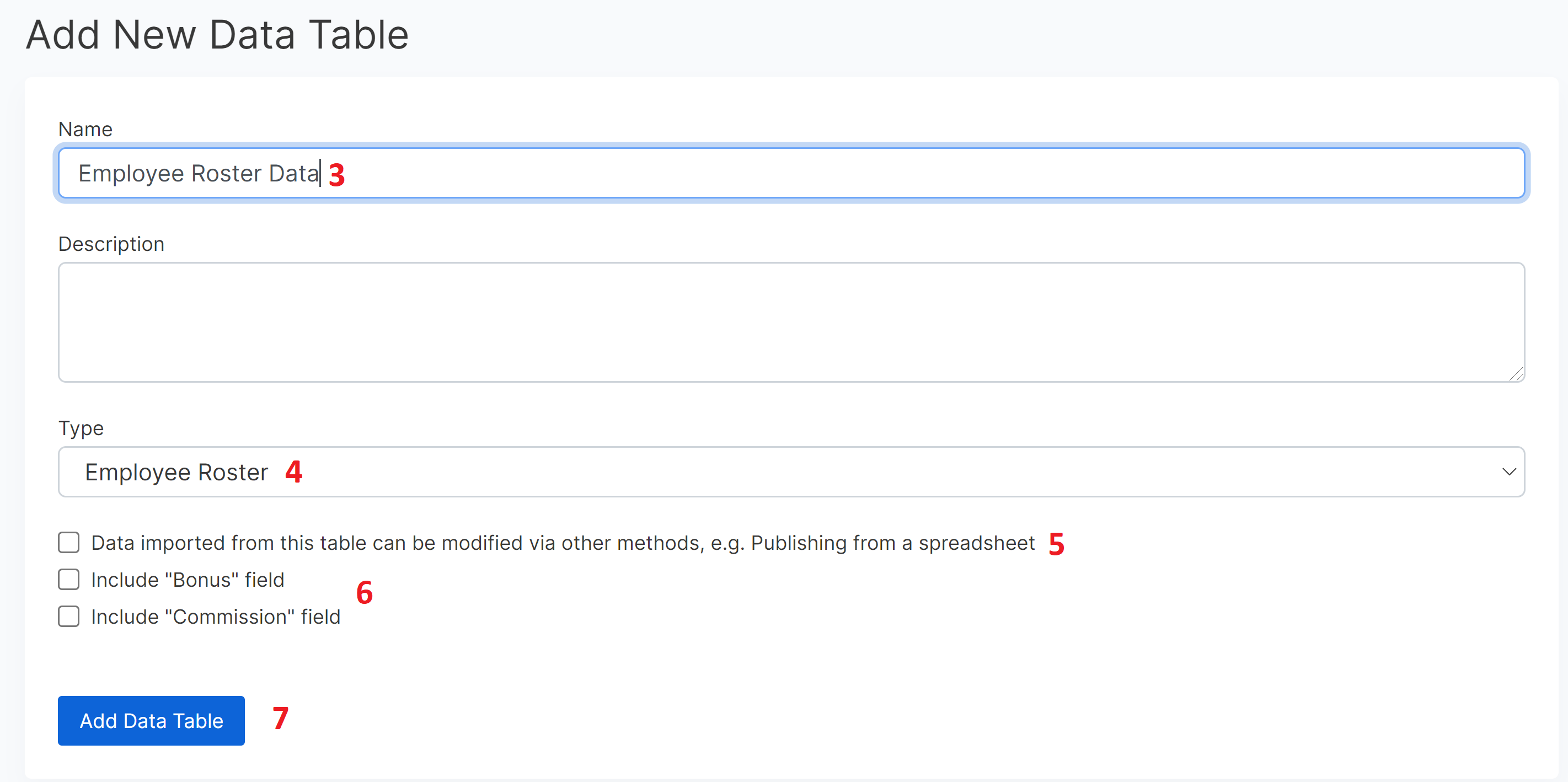 7. Click Add Data Table.
8. Once the data table is added, click Source Dimensions, then Map Dimensions to map the Employee Roster Dimension to the Cube Dimensions.
Please note

: We recommend creating new Cube dimensions to map your Employee Roster Dimensions since you cannot overwrite the "Actuals" data in the account dimensions mapped to a live connection. For example, instead of mapping "Base Salary" to an existing account dimension "10100 - Salaries," in which data come from a live connection, create a new dimension "Base Salary."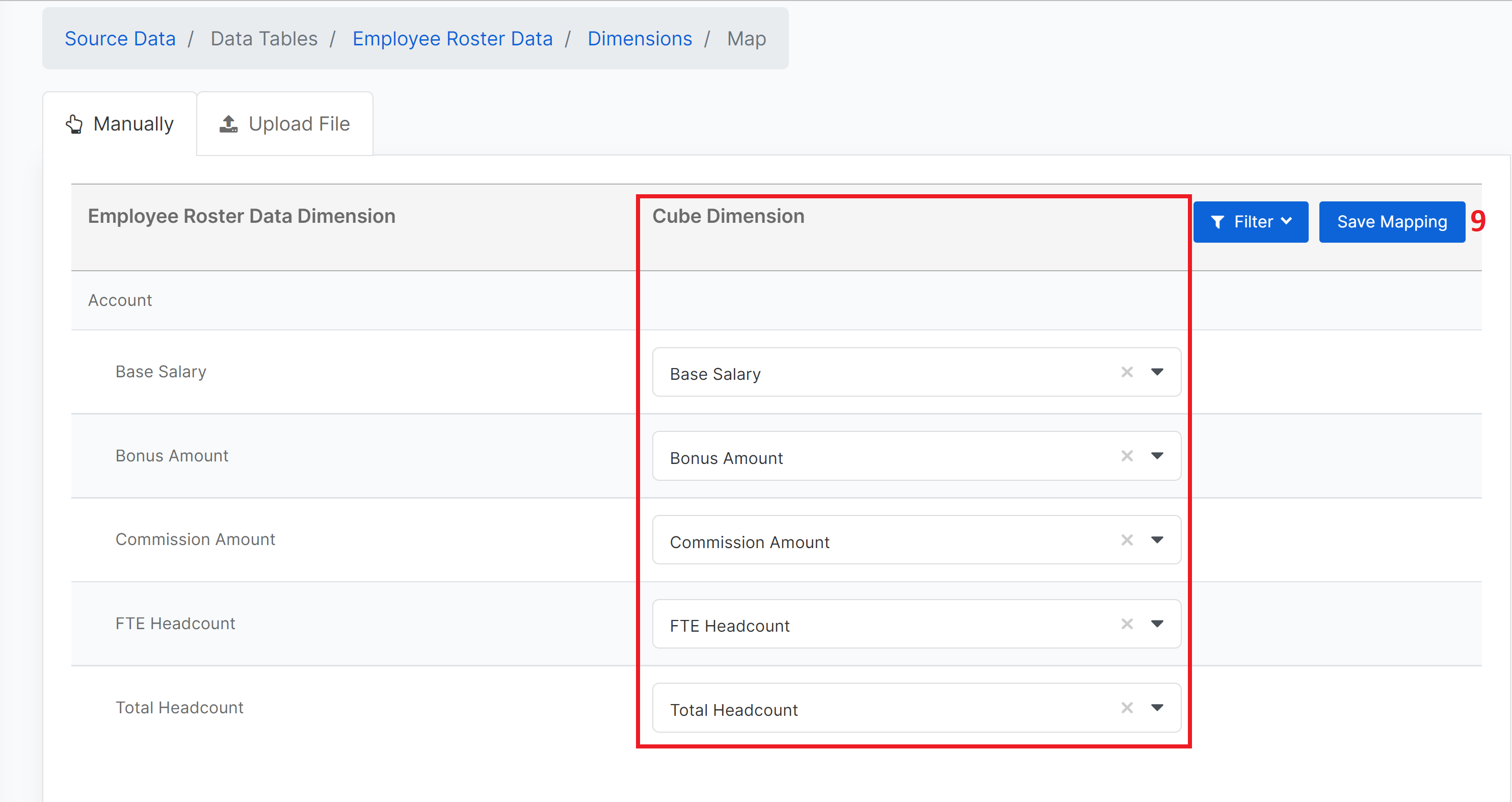 9. Map each Source Dimension and click Save Mapping when finished.
10. [Optional] If you have any attributes associated with your employee roster data (e.g. First Name, Last Name, Job Title, Manager, etc.):
On the

Data Tables page

, click

Edit

Click the

Attributes

tab

Click

Add New

In the

Name

field, input the name of the attribute

Click

Add Attribute

Repeat those steps 1-5 for each attribute you want to add
Importing Data
Now that your Employee Roster connection has been configured, you can upload a CSV of your roster data for importing. To access the upload page:
Click the Edit button on the Data Tables page
Click the Data Uploads tab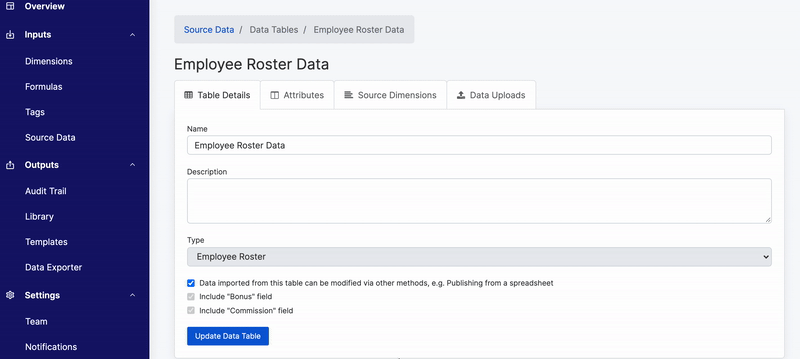 This tab will show you the expected layout of your CSV, as it depends on how your specific Employee Roster file is configured. See below the headers required in your data file before importing it.

The headers highlighted in Blue are the standard ones. *Bonus and Commission are mandatory depending on your selection in Step 6.

Please note

: The accepted values for Employment Type are:

Full
Part
Contract
Hourly
Temporary
Intern

For employees that are currently employed and do not have an "End Date," please enter a future date (example: 01/01/2050) as Cube does not recognize blank and requires a date.

Employee ID

is mandatory; therefore, if you do not currently have Employee ID's you must create a "Cube" ID for each employee you are uploading into Cube. Please ensure to maintain a record of the different Employee ID created as any future changes (example: salary, end date) to employee information will be linked to that specific ID.
The ones highlighted in Orange correspond to the Top Level Dimension and are specific to your Cube.
Please note

: The "Time" and "Account" dimensions are not required to be headers as they are covered in the mandatory ones such as "Start Date" and "End Date" for "Time," and "Salary" for "Account."

Finally, the headers highlighted in Green relate to the attributes created in Step 10.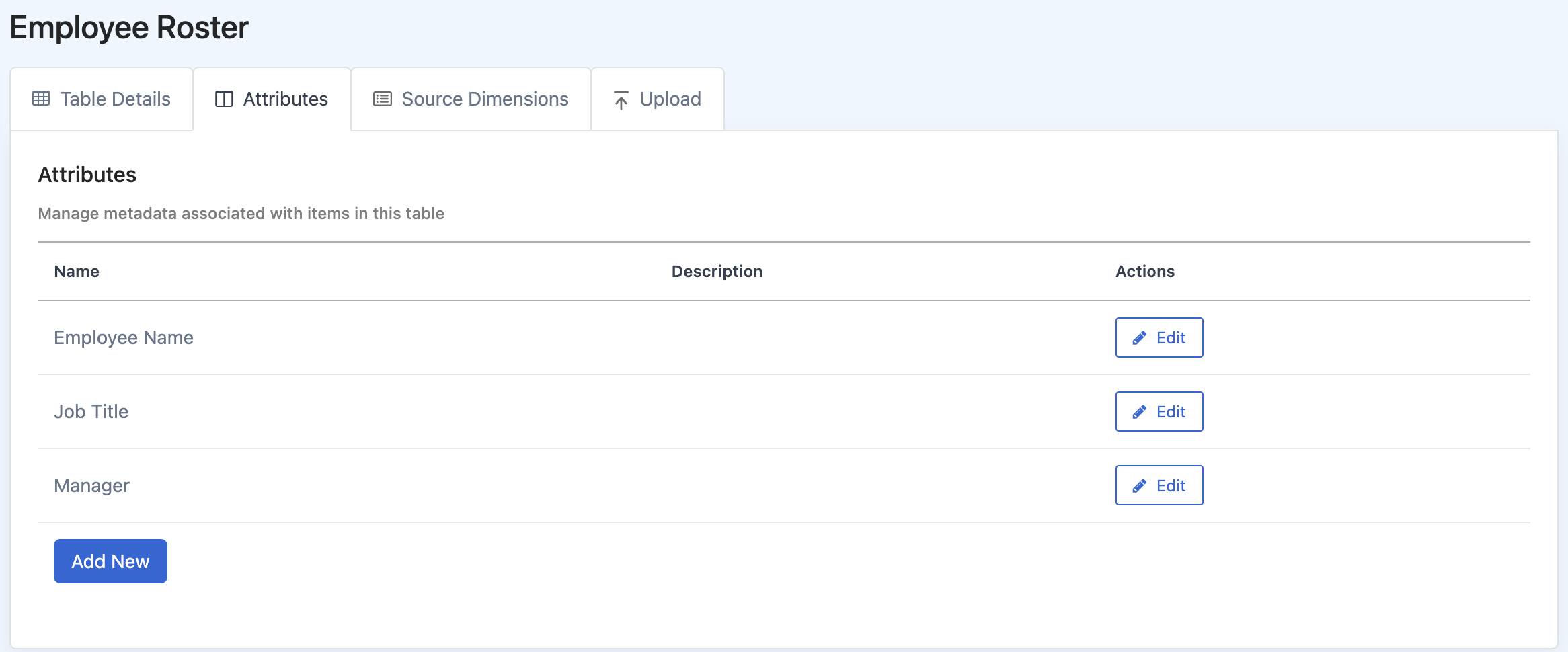 Once you've confirmed that your CSV is configured properly:
Click

Upload Data File For Importing

Input a name for the upload

Click Upload to open our import wizard
Click Upload data from file, then select the file you'd like to upload
Follow the steps on the import wizard, then click Continue to complete your upload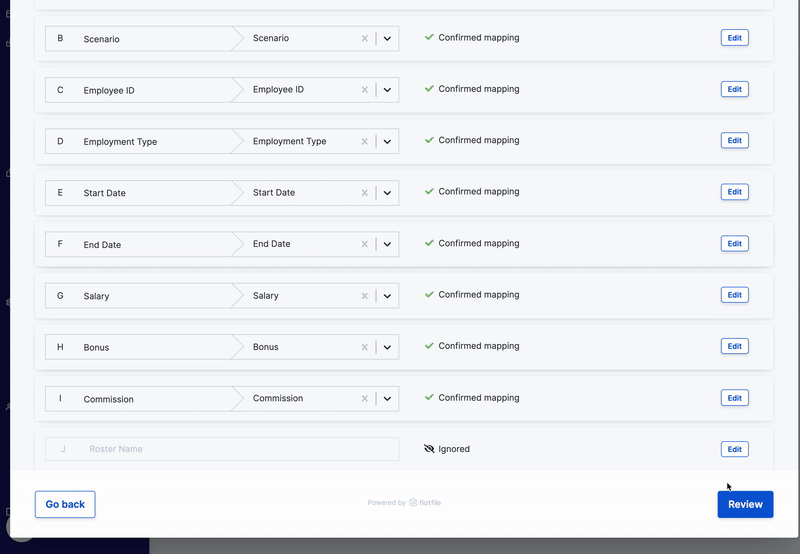 Success! You'll receive an email once your employee roster file has finished uploading to Cube.