What is a Tag?
Tags are a way to build alternate hierarchies and roll-ups in Cube, they offer flexibility in how you want different dimensions (accounts, departments, etc.) grouped. Tags are separate from your standard chart of accounts on your dimensions page and function similarly to formulas.
For example, if you'd like to maintain your standard department hierarchy on your dimensions page but also be able to create reports by budget owner, you can do so utilizing tags. You would create a tag that combines the different departments each budget owner is responsible for. If Mutsu is responsible for the Sales, Marketing, and Customer Success departments but these are organized as separate dimensions in your standard department hierarchy, you can create a tag that combines the three for that specific owner. We walk through an example below.
How to Create a Tag
In order to create a Tag, navigate to the Tags page:
Step One: Add a new tag. Click on the blue "+ New" button in the top right hand corner of the screen.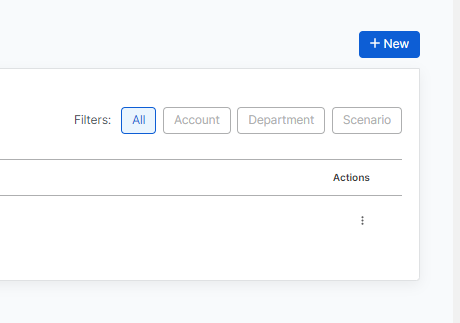 Step Two: Fill out Tag details. Add a name, specify the top-level dimension, and add the dimensions you'd like to group in your Tag. Once complete, select "Save Tag".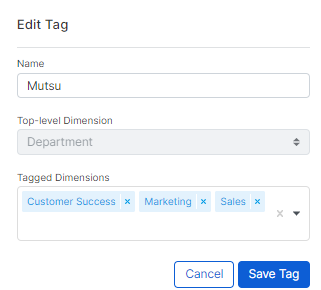 Step Three: Fetch data to your new Tag! You have successfully added a Tag and are now ready to fetch data in your spreadsheet. In the screenshot below, you can see the first range includes the new tag we created that sums the three departments in the second range.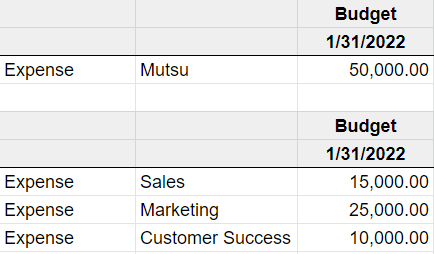 Other Notes
Please note, Tags can be utilized for any top-level dimension other than Time. Further, Tags cannot be published to as they operate similarly to Formulas.
For a more detailed example of how to use tags, see this article.
If the above explanation is not clear enough for you, watch this training video!