There are two ways of loading your budget into Cube, which are:
Publish your Budget
1. Navigate to your budget Sheet/Book in Google Sheets or Microsoft Excel
2. Use the Select function, and click Select Range

3. Under Analyze, use the Validate feature to ensure that all dimensions present in your range are spelled correctly as the ones in Cube

4. Click Publish Data
[Optional] You can comment in the text box before publishing to add more details. This comment will appear in the Audit Trail.

Upload your Budget
To upload your budget, be sure you've first created a Data Table under Source Data. Learn how here.
Once you have created a Data Table, you can perform the following steps:
1. Navigate to your Data Table under Data Uploads
2. Select Upload Data File For Importing
[Optional] You can type a message in the text box before uploading to add more information to your upload.
3. Click Upload
4. Select Upload data from file to browse for the file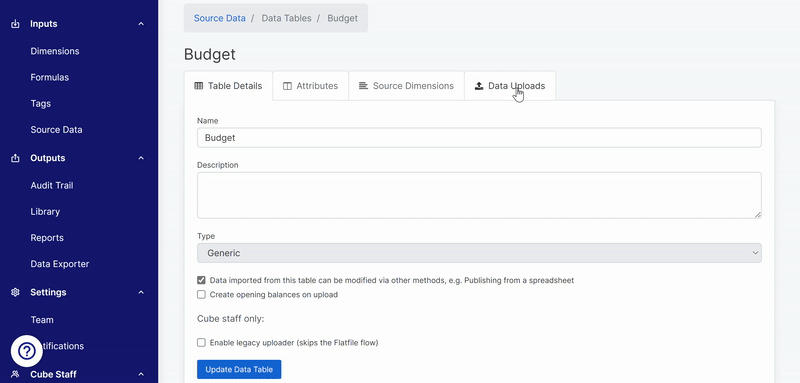 Please note: The uploaded CSV file must match the layout displayed in the Data Uploads Tab. The layout is unique to your Cube, depending on your Top Level Dimensions.

Refer to the screenshot below for an example of an appropriate layout.

Next, learn more about automating your budget vs. actual reporting.