Do you feel like you're always rushing to produce your monthly reporting packages and Budget vs Actual analyses at month end? Are you sick of copying & pasting data and want a better way?
The great news is, Cube can help! By publishing your Budget and any other forward-looking forecasts to Cube, you can automate your financial package with the push of a button, and spend more time analyzing the data vs. consolidating it.
Here's how...
Ways to load your Budget
There are two ways of loading your budget into Cube, which are:
- publishing it directly from your workbook, or
- Uploading it into a Data Table
Publish your Budget
The Publishing method is probably the easiest one as it is only a few clicks away!
Follow the steps below for more details on how to publish your budget:
1. Navigate to your budget Sheet/Book in Google Sheet or Microsoft Excel
2. Use the Select function, and click Select Range

3. Ensure that all dimensions present in your range are spelled correctly as the ones in Cube
Note: You can verify the spelling of your dimensions by using the validate function, as shown in the gif below.

4. Click Publish Data
[Optional] You can write a comment in the Text box prior to publishing to add more details. This comment will appear in the Audit Trail.

Upload your Budget
In order to use the Upload approach for your budget, you will need to create a new Data Table under Source Data > Data Tables. To learn more about how to create a Data Table, please refer to this article.
Once you have created a Data Table, you can perform the following steps:
1. Navigate to your Data Table under Data Uploads
2. Select Upload Data File For Importing
[Optional] You can type a message in the Text box prior to uploading to add more information on your upload.
3. Click Upload
4. Select Upload data from file to browse for the file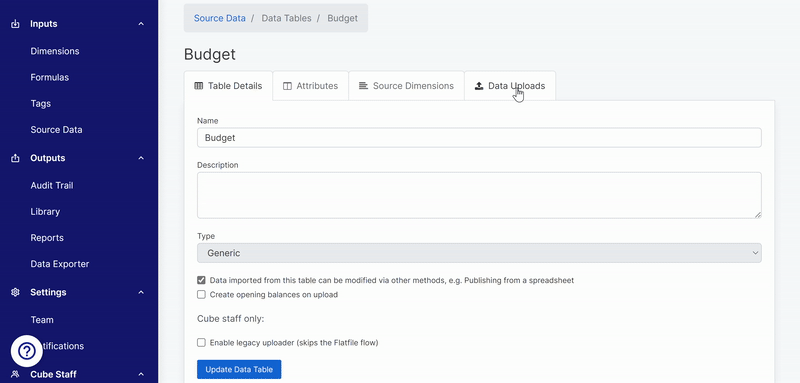 Please note: The CSV file to be uploaded needs to match the layout displayed in the Data Uploads Tab. The layout is unique to your Cube as it depends on your Top Level Dimensions.

Refer to the screenshot below for an example of an appropriate layout.
Next, visit this article to learn more about automating your budget vs actual reporting.