Having issues when trying to load attributes? Here are some of the most common issues publishing with attributes, and
ways to resolve them!
"Your selection overlaps a row header" Error

If you are getting the above error message, it means you are likely trying to mark as for attributes columns containing information matching existing dimensions in Cube, as shown in the example below.
Note: Attributes must be unique and cannot be the same as Cube dimensions.


Publishing with "Use selected area" function Issue
When using the "Use selected area" function with attributes, you need to select and re-publish all attributes you wish to load for a specific account/cross-section.
Take a look at the following example:
We are publishing the attributes "Internal ID" to "Account A" and "Account B."
In the image below, we did not use the "Use selected area" feature and hit "Publish Data" to load our values. When fetching Account A, the result is the sum of the five rows highlighted in red which is 5+5+5+5+5=25.

When drilling down to the value 25, we obtain the following detail that includes all our attributes.

Use the selected area
If the value in the 3rd row for "Account A" changes from 5 to 6, and you publish that specific cell using "Use selected area," the publish will overwrite all the other values.

Therefore, when fetching Account A, the value will be 6, as display in the image below.

The drill-down will also reflect the changes and will now look like the screenshot below.

Therefore, if you are using the "Use selected area" to load your attributes, you must select and publish all the cells of a specific account or cross section to avoid overwriting the other values.

The following images show the result of publishing selecting all the cells for Account A.
Fetching: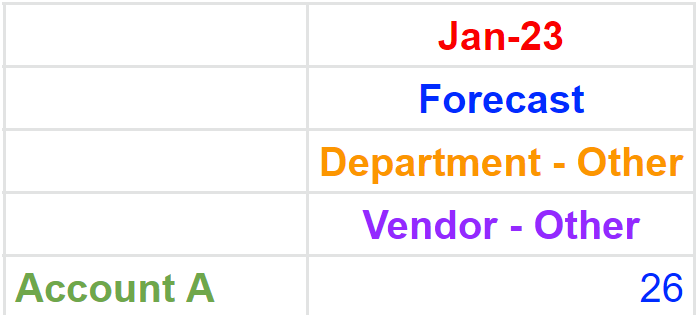 Drilling down:

For more information on how to set up attribute, please visit this article.
Still having issues?
If you're still encountering problems after trying the steps above, log a ticket with the Customer Support team here or send an email to: support@cubesoftware.com.