What are Dimensions?
Dimensions are our way of grouping items such as accounts, departments, regions, products, etc. Dimensions are how we can "slice and dice" different data sets. We call individual items dimension members.
You can find your dimensions by navigating to the Dimension page in the blue navigation sidebar.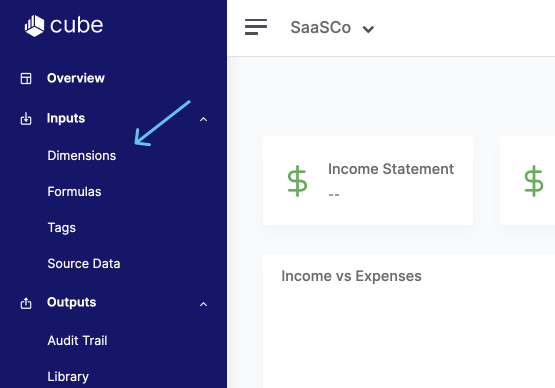 Overview of Dimension Page
Below you can view an example of dimensions:

A Top Level Dimension (TLD) Tabs: These are your top-level dimensions. These are all the different ways you can slice and dice your data!
B Dimensions: To view and edit details, click on any dimension to open the Dimension Drawer
C Add Dimension: Add a new dimension
D Download Dimensions: Download your chart of accounts to a CSV file
E Table Settings: Customize your table by selecting the gear icon. Here you can enable drag-and-drop reordering of dimensions and/or hide inactive dimensions.