Cube helps to connect existing spreadsheets and source systems into a powerful analytics hub for faster strategic insights.
Let's take a look at everything your Cube Portal has to offer:

Overview
The Overview contains your customizable dashboard so you can get a visual insight into what matters most.
Inputs
Dimensions
Dimensions are how your data is stored and organized, allowing you to slice and dice across cross-sections of data to answer questions, plan budgets, and forecast using various data sets.
By default, Cube automatically provides four top-level dimensions: accounts, department, scenario, and time. In addition to your default dimensions, you can add up to four custom dimensions (like Product or Vendor). If you need more dimensions, talk to your CSM about purchasing an additional Cube.
Each top-level dimension contains a hierarchy of child dimensions at various depths below it.
Values in the cube are stored at the cross-section of the deepest level dimensions. A deepest-level dimension must be present for each top-level dimension the company has.
From the Dimensions page, you can also merge data between scenarios (up to a year at a time).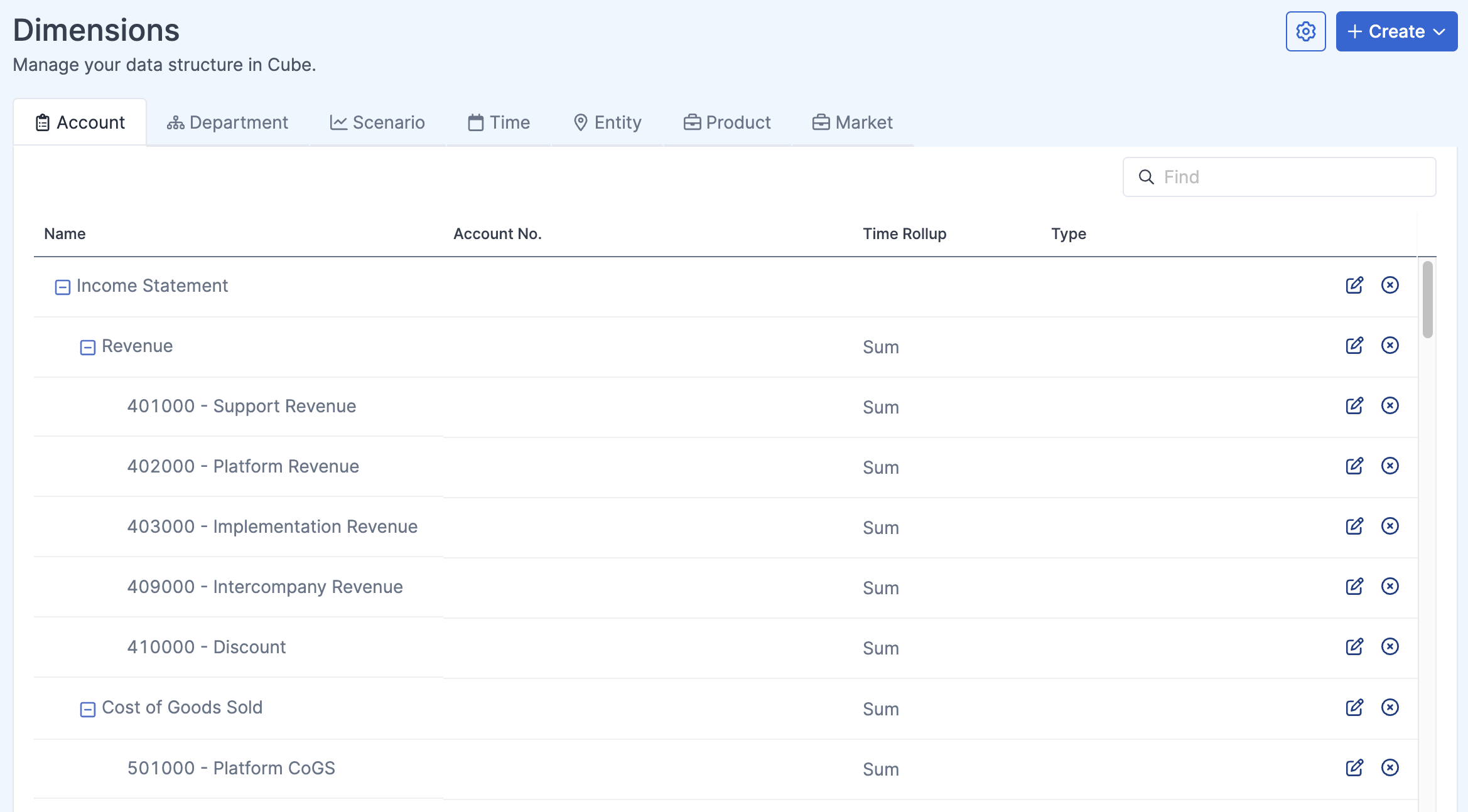 Formulas
Formulas help you avoid updating multiple spreadsheets by allowing you to create a dimension calculated based on other dimensions.
For example, you could create a dimension for Gross Profit by creating a formula in Cube that subtracts the Cost of Goods Sold from Revenue.

Tags
Tags allow you to create alternative rollup hierarchies for your dimensions.
For instance, you might tag some Accounts as Fixed Cost vs. Variable Cost even though you don't have those as dimensions in your hierarchy.
Or you may tag a few departments as "Susie's Departments" so various managers can see the spending across the Departments they manage.

Source Data
Source Data is where you can manage your Source Systems and Data Tables.
Source Systems use an API connection to receive data from your ERP, CRM, HRIS, or BI tools. Cube currently can connect to QuickBooks, Xero, NetSuite, Salesforce, Sage Intaact, ChartHop, and Tableau.
Depending on your source system, data can be organized in various ways. As a recommendation, we recommend following your Chart of Accounts. Once set up, Cube syncs every hour with your source system to ensure it's as up-to-date as possible.
Data Tables provide a more generic way of uploading data using flat files. While more manual (as data requires regular uploading), data tables allow you to infuse your Cube with data from any other valuable data source worth analyzing.

Learn more about importing data to Cube.
Outputs
Audit Trail
The Audit Trail is where you can track changes in Cube data over time. It will show you when the change occurred, by whom, and what data was modified. You also have the ability to drill in deeper and View Changes to get a detailed view of what exactly was changed.

Learn more about the Audit Trail.
Library
The Library allows you to store data in the cloud and pull reports directly from the Cube Web Portal. Particularly helpful for non-finance Cubers, it provides a centralized location to keep track of all the spreadsheets you want non-finance users or budget owners to utilize.
For example, you could save a report for the Marketing Budget owner titled "Marketing Budget 2022" that budget owner could then navigate to the Library, pop open the report, fill in their budget detail, and publish the data to the cloud with one click.
While Library reports are available to all users in Cube, the ability to fetch and publish data within each report depends on that user's specific permissions (more on that below, in the Settings section).

Reports
Reports are for financial users of Cube who want to templatize the way they push and pull data into the spreadsheet. This is great for your re-occurring projects, like budget or forecasting.'
Template permissions can vary, allowing you to share it with all Cube users or keep the template to yourself.

Learn more about templates and reports.
Data Exporter
The Data Exporter allows you to extract data directly from Cube using your dimensions as filters to pull data directly into the web portal's spreadsheet and export the information.

Learn how to export data from Cube.
Settings
Team
Under Team, is where you can invite and manage your users and their permissions. There are permission groups you can add a user to:
Admin -

Admins are considered Cube "owners" admin users have access to all capabilities in Cube and can add new users to any permission group and manage all other users' permissions.

Finance -

Finance users have access to all capabilities in Cube other than adding new admins or changing existing admin privileges.

Business - Business users are considered "viewers"; they can only fetch & publish data (i.e. read & write data) in the Add-On in Excel or Google Sheets, and they have no other permissions. Business users cannot import data or change any account mappings.
In addition to the permissions automatically granted based on role, each user's permissions can be customized to make certain information private and allow or prevent them from modifying financial data.

Learn how to add team members and modify permissions.
Notifications
In Notifications, you can subscribe to have emails from Cube sent to your inbox:

Currencies
On the Currencies page, you can enable your company's currency and edit conversion rates.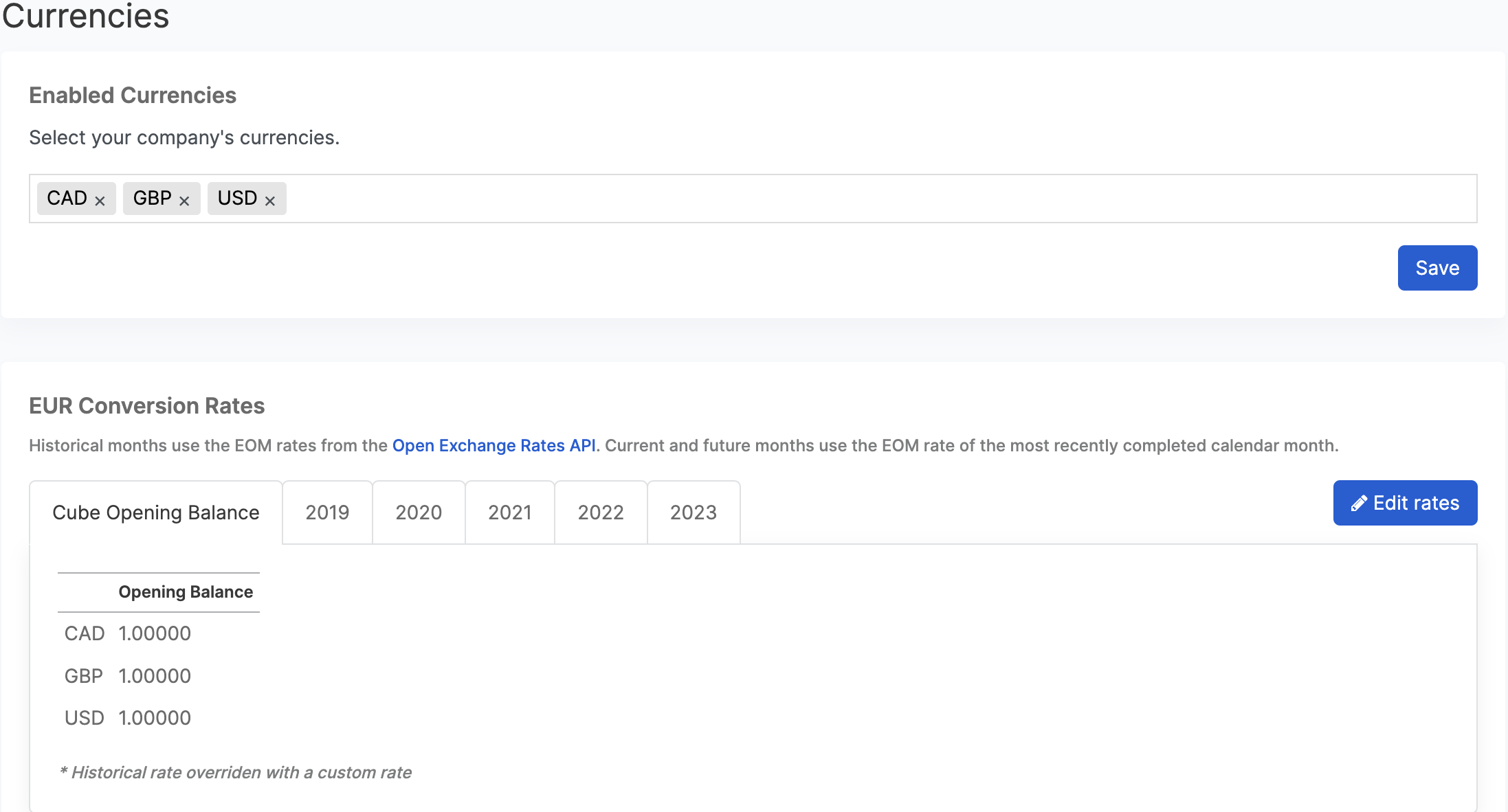 Learn how to set up multi-currency.
Add-ons
Under Add-ons is where you can access the Microsoft Excel or Google Sheets installation pages. This enables you to access data from Cube and publish data back to Cube for planning purposes.
Learn more about the Cube spreadsheet Add-on.