In the ever-evolving domain of Financial Planning and Analysis (FP&A), professionals constantly seek tools that align with their strategic, analytical, and forward-looking tasks. The Cube web portal is designed with these needs in mind, ensuring you have a comprehensive and powerful platform for your FP&A activities.
Let's take a look at everything your Cube Portal has to offer.
Dashboards
Dashboards offer a personalized, visual overview of your most vital data, allowing you to gauge your company's health quickly.
For example, you may want to instantly view month-to-date expenses against your projected budget, highlighting areas that might require attention.
Learn more about building dashboards.
Inputs
Dimensions
Dimensions are the foundation of how your data is structured and accessed, enabling swift data manipulation for planning, budgeting, and forecasting.
Cube offers four predefined top-level dimensions: accounts, department, scenario, and time. You can also introduce up to four custom dimensions, such as Product or Vendor. If you need more than eight dimensions, consult your CSM about acquiring an additional Cube.
Each primary dimension encompasses a hierarchy of child dimensions. Data in the cube resides at intersections of these child dimensions, ensuring a comprehensive data categorization. For instance, data about "Q1 Sales of Product X in Department Y" provides multifaceted insights, allowing for granular analysis.
Further, you can merge data between scenarios, aiding in year-over-year comparisons.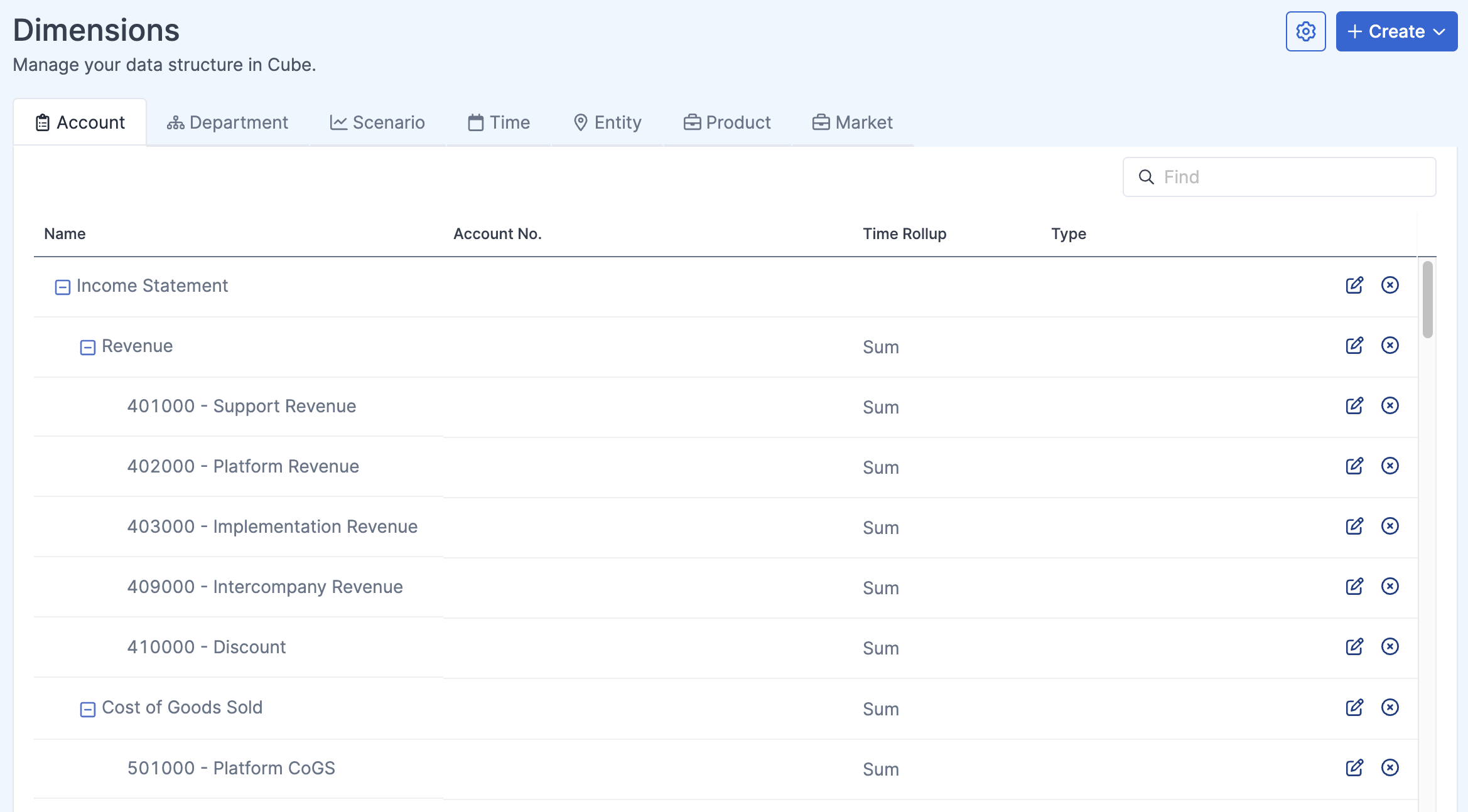 Formulas
Enhance your FP&A models by creating formula dimensions that compute based on existing data, reducing the need for redundant spreadsheet updates.
Streamline your profitability analysis by defining a Gross Profit formula in Cube that automatically calculates the difference between Revenue and Cost of Goods Sold anytime those values change.

Tags
Create alternative hierarchies for your dimensions using tags to support additional analysis without restructuring the primary architecture.
Differentiate accounts by tagging them as Fixed or Variable Costs, or group departments under specific management domains, enhancing the clarity of your reports.

Source Data
The heart of your analysis in Cube comes from your data integrations, where the synchronization of your organization's data meets Cube's powerful analytics hub.
Source Systems: Cube integrates with your ERP, CRM, HRIS, or BI tools using an API connection, making data retrieval secure and effortless. Currently, we support integrations with QuickBooks, Xero, NetSuite, Salesforce, Sage Intacct, ChartHop, Tableau, and more.

Data Tables: Data tables allow additional sources for organizations looking for more flexibility. While they offer a manual approach to data integration using flat files, they promise unparalleled customization. Whether it's a unique financial metric or a specific data set worth exploring, infuse Cube with this data table and make your analysis even more comprehensive.

Learn more about importing data to Cube.
Outputs
Audit Trail
Maintain the integrity of your financial data using the audit trail to track modifications to Cube data. It's an assurance of transparency and accountability for your team as you work across the Cube ecosystem.
Example: Trace an unexpected spike in the marketing budget for next quarter to a particular input change made by a team member using the Cube spreadsheet add-on two weeks ago and read their change message.

Learn more about the audit trail.
Library
Store and manage cloud-based data and files in the library so your team can pull reports directly from the Cube web portal. Particularly helpful for non-finance Cubers, the library provides a centralized location to keep track of all the spreadsheets non-finance users or budget owners can utilize.
For example, a marketing manager could open the "Marketing Budget 2022" from the library, update their budget detail, and publish the data to the cloud with one click.
Note: While Library reports are available to all users in Cube, the ability to fetch and publish data within each report depends on that user's specific permissions.

Reports
Standardize data presentation for recurring financial tasks, such as budgeting or forecasting by creating templates. Templates will appear in this reports area of the Cube web portal.
Develop a monthly financial performance template, ensuring consistent reporting parameters and easing the analysis process.
Note: Template permissions can vary, allowing you to create personal or shared company templates.

Learn more about templates and reports.
Data Exporter
Filter and extract data directly from Cube, customizing your datasets for specialized tasks.
Example: Export quarterly revenue figures for a specific region to craft a tailored sales strategy.

Learn how to export data from Cube.
Settings
Team
Invite users and manage their permissions, ensuring data security and functional integrity.
Admin -

Admins are considered Cube "owners" and have access to all capabilities in Cube. They can add new users to any permission group and manage all other users' permissions.

Finance -

Finance users have access to all capabilities in Cube other than adding new admins or changing existing admin privileges.

Business - Business users are considered "viewers"; they can only fetch & publish data (i.e., read & write data) in the Add-On in Excel or Google Sheets, and they have no other permissions. Business users cannot import data or change any account mappings.
In addition to the permissions automatically granted based on role, each user's permissions can be customized to make certain dimensions or categories of your data private and allow or prevent the user from modifying financial data.

Learn how to add team members and modify permissions.
Notifications
Opt to receive timely emails from Cube, keeping you in the loop of essential updates.

Currencies
Operate in a global marketplace? Manage and set up currency conversion rates to ensure accurate financial reporting.
Note: this page is only available to users with Admin permissions. If you would like to upgrade your Cube to use multiple currencies, please reach out to your CSM.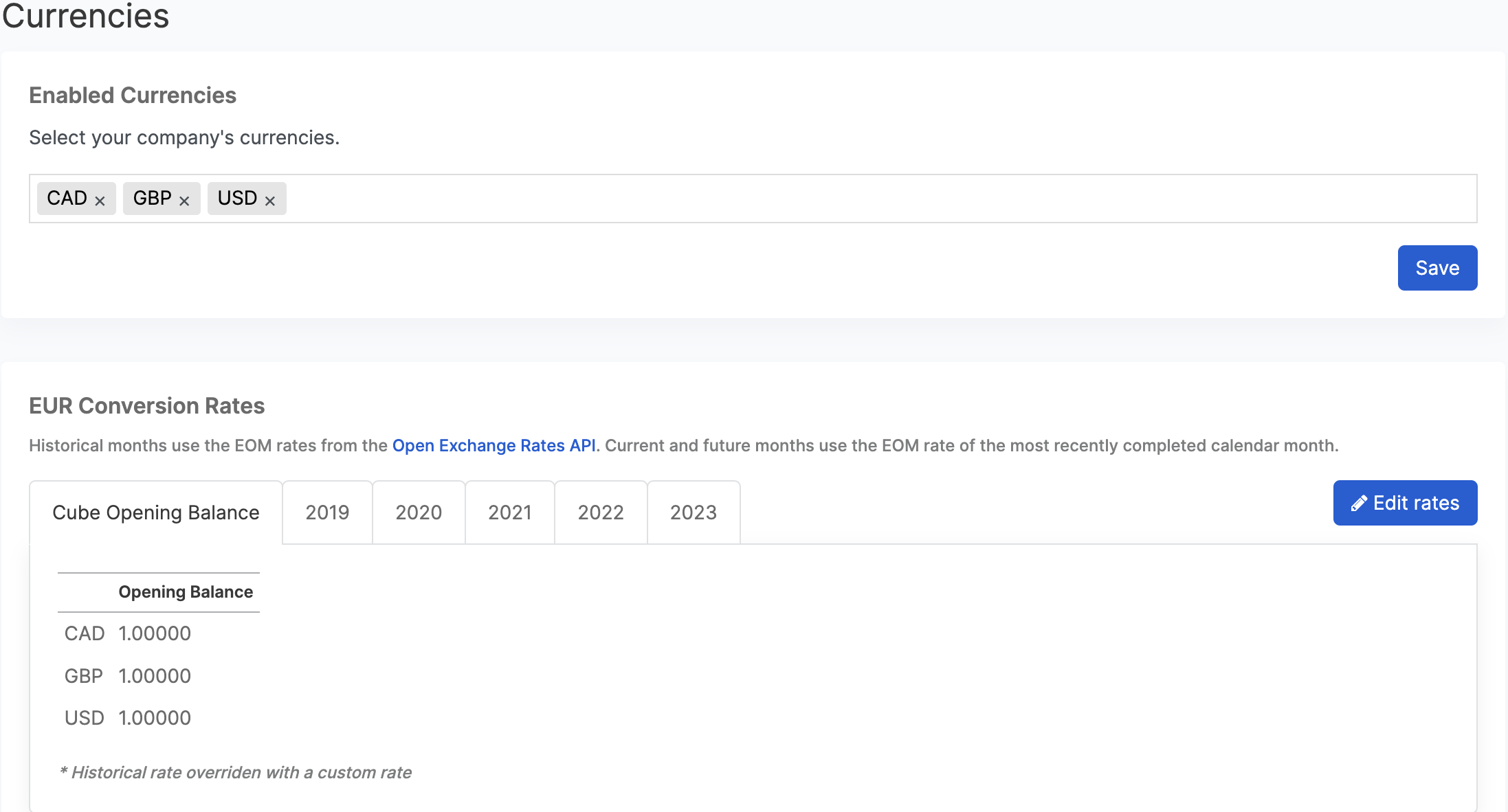 Learn how to set up multi-currency.
Add-ons
Access the installation pages to integrate Cube with Microsoft Excel or Google Sheets, bridging the gap between traditional spreadsheet modeling and advanced FP&A software capabilities.